How to find the perfect cart for your e-commerce business in 5 steps?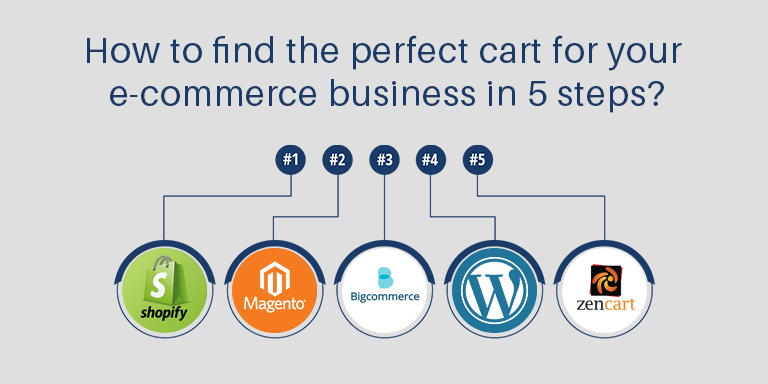 You have decided whether you want to start B2B or B2C business; it is time that you pay attention and find the perfect cart for your ecommerce business. You have multiple good options WordPress, Shopify, Magento, ZenCart or BigCommerce. Puzzled? Don't worry! Below we have given the detailed version of each, evaluating which you can pick the perfect shopping cart for your business.
Source: creativeengineeringstudio.com
If you're a start-up then Shopify will be your perfect choice
Shopify is an excellent and complete solution for those who want to establish, grow and manage an online store i.e. it is the choice if you're a startup or a small business structure. It is an easy to use platform with following features.
Beautiful storefront themes
Perfect platform for less tech-savvy people.
It offers you 1200 different plugins, including an accounting plugin, that can help you automate your tasks.
It has a 'Buy Button' functionality that enables you to use Shopify as a Point of sale.
Shopify excels at providing all the necessary marketing tools you need to grow your business such as SEO optimization, Google Ads, Facebook Ads, Blog Posts, etc. The price for Shopify's services ranges from $29/month to $299/month as per your feature requirements.
Looking for a more technical and higher end platform? Try choosing Magento.
Magento is built as an open source platform that mainly suits the requirement of big e-commerce companies and enterprises. All the big companies that want their website as per their requirements opt for Magento because;
You can get a customized look, content, and functionality for your online store.
It offers robust and powerful marketing, search engine optimization and catalog management tools.
Magento enables you to develop mobile-friendly websites with much hassle and with the best mobile viewing experience to the customers.
However, unlike Shopify, marketing through blog posts is a no-no in Magento until you take expert magento developers help for including it for your store. Not only it offers site customization, it also allows several discounts and promo codes during check-out as well as more than 50 payment gateways.
When you're looking for a cart suitable for a simple product inventory, BigCommerce will be your go-to solution.
BigCommerce is an all-in-one e-commerce platform that allows you to create and maintain your e-commerce store in a very simplified manner. Hence it is suitable for start-ups or small business units that possess a relatively simple product inventory and offers. It will enable you to integrate your store with various sales channels to help boost up your sales, i.e. you can sell everywhere from Amazon, Facebook to eBay. It's Abandoned Cart feature gives you a higher chance in revenue generation by sending three automated emails to visitors that didn't finish the checkout process.
You are free to set up your promo codes and discount coupons.
An added bonus with using BigCommerce is that there are more than 40 integrated payment methods that will enable your customers to choose to pay by their desired payment mode.
Small business with a complex inventory? WordPress will be your harbor.
As you all know, WordPress is an online, open-source website creation tool. It is the most comfortable and most powerful website platform for blogging, business & e-commerce (small to medium scale), and creating portfolio websites. What's the best part?
It is free and possesses endless customization possibilities in its themes and plugins for your out-of-the-box feature need.
WordPress is SEO friendly, which means, a website developed via WordPress tend to rank higher in search engines.
It allows you to update and manage your themes and plugins from your WordPress admin dashboard itself.
It aids in accelerating your conversion rate.
You can either choose a self-hosted WordPress a.k.a. WordPress.org or link your domain, hosted by a third party, with it. WordPress is gaining popularity in e-commerce as well with its plugin 'WooCommerce,' that gives you a simple and efficient website. You can rest assured with WordPress that you will have a safe & secure payment gateway for your customers.
Running your business on a low-budget? ZenCart will prove to be your pocket friendly solution.
ZenCart is perfect for those who want to start operating their online store at a lower budget. ZenCart is the best online store management system that enables you to sell virtually everything from your online store. What ZenCart offers?
This platform allows for your customers to navigate through your online store with ease.
Once your customers have put the products in the shopping cart, it takes just three simple steps to purchase it.
You can easily switch between templates without having to re-do all your content on your website.
Not only that, you are free to add or remove discount coupons on the products you want, feature your prime products on the home page, restrict site access for B2B selling, set email campaigns to notify customers.
If you're still confused about which will suit your requirements, DesignOmate has your back. We know them all, and our expert ecommerce consultants possess substantial experience of working on all of them. Check out our portfolio and see for yourself. Whatever your e-commerce website needs, we are here to provide you with it.