Marketing Automation stealing the show when it comes to boosting e-commerce business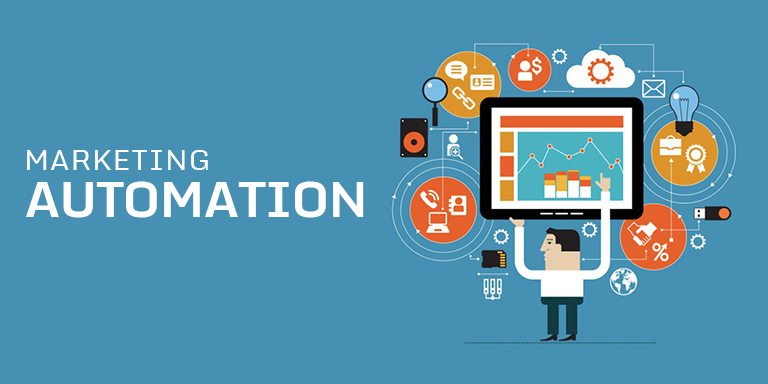 Marketing Automation stealing the show when it comes to boosting e-commerce business
Marketing automation is a technology that helps businesses to target customers with automated messages via email, social media, web, and text, and generate sales leads. The main objective of marketing automation software is to help businesses deliver quality content to the right audience efficiently, which, as a result, will increase sales and hike your company's branding. Marketing automation software companies such as Infusionsoft, Acton, Hubspot, Zoho, and SharpSpring enable the businesses to increase the operational efficiency of their marketing campaigns by streamlining, automating and monitoring their marketing efforts. Both large and small enterprises use this software to achieve various business objectives.
Marketing automation campaigns offer state-of-art tactics to truly personalize your marketing and turn a potential visitor to your website into a loyal customer. Even a small to medium-sized e-commerce website can adopt this technology to compete with the big giantsand steal a remarkable market share!
Still not sure why you should start using marketing automation? These benefits will show you how it is doing wonders in the e-commerce sector.
Escape the repetition, be creative.
If your staff is spending much of their time doing mundane and repetitive work such as doing product listing or sending mailers to the customers, it is bound to block them from using their creative mindset. Replacing manual, repetitive work with automated rules and campaigns will make sure that your staff has free time to divert their focus towards more creative aspects of the company. As a result, you'll be able to witness increased staff productivity and effectiveness toward the tasks in hand.
Gathering Customer Insight is easier.
Marketing automation is most advantageous in gathering useful insight into your customers effortlessly. Several automation tools can help you collect insights on your customers such as product preference, date of birth, time of the visit to a particular website, the product the customers are spending most of their time looking at, bounce rate and so much more. Having a database of such insights, you can leverage them to create more effective marketing campaigns.
For example, have you ever noticed that if you're browsing through the product range of, say, Flipkart but did not buy anything, shortly after you abandon the site, there's an email in your mailbox giving you suggestions about a few products that might be related to the product you spent maximum time looking at on their website. Yes, that's the magic of marketing automation.
Personalizing Customer Journey
In today's era, each customer wants unique and targeted content at each stage of their marketing research. With marketing automation tools, you can simplify the process of getting the right content to the right customer at the right time. These tools also gather data from content such as
Which emails are being opened and clicked on by customers?
Which posts are high-performing on your social media channels?
How are those posts converting to website visits and other actions?
Is there any engagement from mobile messages?
Automated data capture will help you get all the information relevant to your content marketing strategy.
Progress Tracking is Simplified
Numbers are an excellent source of judging the progress of your business. That is the reason most marketing automation software have real-time reporting tools and can integrate with your CRM platform to give you in-depth insight on how your campaigns are performing. This enables you to analyze your audience behavior towards your strategies, evaluate which campaigns are working for you and which are not, and track your ROI. By knowing this, you know which strategies are bringing more business and which ones are creating more leads.
Monitoring Omnichannel Marketing is simplified.
Ask any marketing expert, opting for omnichannel marketing is undoubtedly astronomically rewarding. However, no matter how bankable omnichannel marketing is, monitoring is entirely another task.
The word omni means present everywhere, but it is impossible to be present on all platforms at the same time. That's where marketing automation comes to the rescue. It enables you to easily monitor all the channels used to interact with the prospects and customers. Using marketing automation software tools and bots, you can get access to detailed insights on your customers and about their activities on each of your channels within minutes.
Reduces Marketing & Staffing Costs
Earlier marketing teams were responsible for all lead generation and nurturing those leads manually. However, that role has been transferred to the marketing automation software that can do all these crucial marketing tasks for you sans human error. Hence, the need for staff is far less, and companies can invest that money into their marketing budgets or other areas which require more resources – which is one of the most tangible benefits of using marketing automation.
Increases Revenue
Ultimately business is about earning a profit. As mentioned earlier, with marketing automation, you can reduce staffing and operational costs by handling more process without having to hire more personnel. This means that by using fewer resources, you can secure more conversions, which increase your business' overall revenue. According to Garter research, companies who used automated lead management software witnessed a revenue increase of 10% or more over 6-9 months.
These are just a few ways by which marketing automation can do wonders for your business. However, choosing the right marketing automation platform is crucial for you and your team to do much more with less. Our team at DesignOmate is here to help determine the right platform for your business. With our experience with leading marketing automation tools such as Infusionsoft, Acton, Hubspot, Zoho, and SharpSpring; we can help simplify your marketing process in no time.