PPC Trends For 2021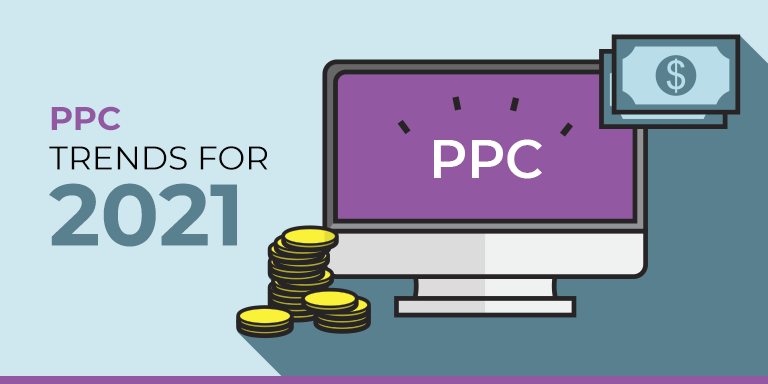 As 2021 gets closer, now is the perfect time to evaluate your advertising and make changes that can make your marketing even more targeted and effective.
2020 has been peculiar year for many of us, but for the B2B industry, demand remained stronger. Paid search budgets increased in many cases, as B2B companies invests more in digital marketing.
In addition to the pandemic, Google also surprised us with a few changes- an updated search query report, new ad extensions, and new audience targeting, to name a few. All such changes forced the advertisers to adjust their SEM strategies in order to maintain or increase their ROI.
To help you prepare for your 2021 marketing campaigns, we at Designomate have put together a list with all the latest PPC trends that you need to know about.
1. Automation of PPC
To put it simply, automation is giving the majority of control to the search engine algorithms. This allows them to determine where you can best achieve the objectives set within the campaigns.
Using automation can save ample time on the manual tasks within your accounts, gain data via different signals, and can avoid under or overbidding. The introduction of automation into PPC usually leads to more effective campaigns and better results.
2. Know your audience
Understanding your audience and their buying process has never been more important. This is the reason in 2021 it is expected out of the marketers to be more focused on their audience in order to better target their valuable customers' mindsets. 
One of the latest features from Google Ads is the ability to add target audiences. This narrows down who you want to see your ads. Taking advantage of this feature allows you to get the most out of your ad budget.
You can even set ad preferences to exclude audiences that you don't think your service appeals to. The latest Google Ads updates also gave advertisers the ability to layer audiences on top of each other. This means you can use keyword targeting and demographic targeting together to create extremely relevant ads.
3. Video ads
Let us take a look at some of the video stats;
People remember up to 95% of a message from a video (as opposed to text).
By 2022, 82% of all business and consumer Internet traffic will come from videos, up from 75% in 2017.
Platforms are going to encourage advertisers to adapt to things like Google's vertical video ads. Even if you don't want to pay for video advertising, YouTube or similar video hosting sites are an excellent target for your search campaigns.
One of the most interesting video ad features added by Google is Bumper Machine, which uses machine learning to create 6-second bumper ads from longer videos.
The full-funnel video strategy allows marketers to manage 6-second bumper ads, skippable in-stream ads, and non-skippable in-stream ads.
4. An uprise in visual search
Visual search works by using a picture as the search query as opposed to text. For example, you take a picture of a bottle you like and the visual search will output links to buy it. People want results faster than ever and visual search helps people get exactly what they want faster than typing in something like "blue bottle with painted white flowers".
To stay ahead of this trend, create a photo catalog of your products and services. Add metadata to the images to make sure they are categorized correctly by search engines. For example, a photo of a jade green bottle would have alt text like, "small jade green bottle."
5. Collaborative Filtering
Collaborative filtering is a grouping system that groups users by shared tastes or preferences. If Bob has similar reactions to content as John, it is likely they could have other similar tastes. Filtering can be based on almost anything from age, interests, locations and more to guide them to content that would appeal most.
Collaborative filtering goes further, tailoring your content to your recent likes, browsing history, or trending topics. This allows websites to remain interesting, new, and relevant to individual users.
6. Voice Search
You must consider creating campaigns that focus on voice search because:
By 2022, 50% of consumers will be using voice shopping.
By 2022, voice commerce sales will reach $40 billion.
By the end of 2020, it is estimated that 50% of all online searches will be initiated by voice. One good strategy to get ahead of the game is to adopt a more conversational tone on your website.
People are more conversational when making voice searches, so it will improve your chances of a hit. Updating FAQ pages on your website with using 'long-tail' keywords is another way to set yourself up for voice search success.
7. Virtual reality ads
The idea behind virtual reality ads is to allow viewers to try out the product before they actually buy it.
VR technology uses eye-tracking technology in order to activate an ad. When the user gazes at it for a couple of moments, the ad will start.
VR will give insight into what parts of the screen viewers are looking at and the parts they have chosen to interact with.
8. Harness the Power of Paid Social
Social media is crazy powerful and prevalent in today's society. It also has unprecedented abilities to target very specific buyer personas in a way that no other advertising mechanism can. Each of these social media platforms offers advertising options:
Facebook
Instagram
Twitter
LinkedIn
Once you have developed your target audience, focus your efforts on where you know your target audience is active.
Visual advertising does the best on social media platforms, so take full advantage of this advertising method by using videos, photos, and gifs.
If you have not already, you should include paid social media in your advertising budget. It has too much power to avoid it or simply miss out.
As you can see, PPC strategies are constantly evolving. If you want to stay competitive, your marketing strategies need to evolve, too.
Make sure you are always at the forefront of new technologies and best practices.