What is PWA for Magento? Reasons to get your store re-designed with Magento PWA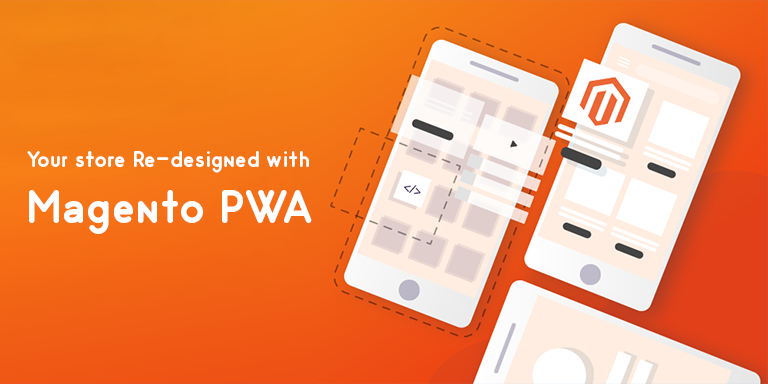 PWA is progressive web application which was originally talked about by Google. It is essentially a website that looks like a mobile application on a smartphone, tablet delivered through the web. It has an app style experience like notifications, offline use. Magento is becoming a progressive web application platform it benefits to both customers and developers. To put it forth simply, PWA studio essentially allows you to make customers' online purchase journey easier and faster. Users can use the website as an app by simply adding the website to the home screen. Magento 2.3 released with loads of impressive updates and PWA was one of it. Magento, therefore is one of the first e-commerce platform to enable the users to fully employ the potential of PWAs. That's not it magento has also introduced PWA studio which offers the required tools for the developers to successfully create and maintain a PWA storefront on top of magento.
One of the reasons why magento is concentrating on PWAs is mobile commerce is driving more online sales, magento has hence made a wise move to bring advanced trends like PWA to its platform.
Here are some reasons why magento PWA can improve your business and you must get your eCommerce store designed with Magento PWA
Exceptional Speed: If a mobile site takes much time to load there can be a drop in mobile visits, so a good speed is one of the vital factors for online stores. PWAs are playing a good role as they are relatively fast.
Multilingual Compatibility: Browsers such as chrome, safari, edge and firefox. PWAs run smoothly on almost all the widely used mobile browsers and platforms. Besides, PWAs don't have to be updated from the app store. Updates are delivered real-time just like a website.
Receptive Design: Executing PWA will result in a much compatible experience across devices like desktop, mobile phones and tablets, which will further be improving customer experience. As we all know sites with responsive web design will any day rank better in Google search results. Thus, implementing PWA can make your site rank higher in Google search results.
SEO Friendly: As PWA being a highly appealing and reliable site, it is pretty much obvious for the visitors to stay for a comparatively longer time. Another advantage of PWA in terms of SEO is that as Google recently announced that the mobile version of a site would be indexed first, so it is a mobile-first index.
Push Notifications: As we all know that push notifications are important to e-commerce business in order to keep the customers informed about the latest whereabouts of the order updates.
Preferability of mobile applications: Customers prefer mobile apps rather than going to the website time and again. Mobile apps are much preferred because apps have a wonderful user experience as they're easy to start up, use sensors and send push notifications and synchronize data. Websites generally do not provide a rich user experience which leads to poor engagements. With the Magento PWA website will show a pop up notification to add to home screen and app will be downloaded automatically on the phone that will increase the conversion of your ecommerce store.
As you have now understood the importance of Magento PWA, it's the right time to upgrade your Magento store. Well, a reliable magento website developer can do this for increasing your online business. What's more you can save a lot of big amount spent on app development while improving and increasing your user experience. At DesignOmate, our endeavor is to build a good website using the technological advancements of a robust Magento platform.