BigCommerce Web Design Melbourne: Out-of-the-box ideas that appeal to small businesses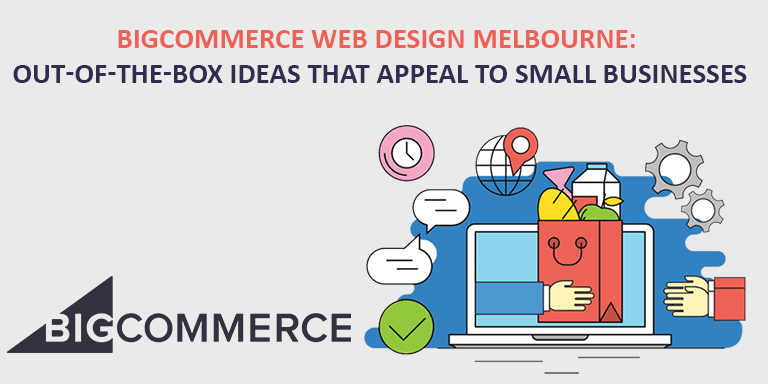 BigCommerce is one of the most popular e-commerce platforms available today for new online business or small scale business. Why? It is because of its complete, reliable and well back-end support along with its simplicity and loads of out-of-the-box ideas and features that are not available with other e-commerce platforms at a similar price. The following real-time benefits will show you why BigCommerce is one of the most widely used e-commerce platforms.
1. Ease of use
With its clear interface, BigCommerce proves to be very easy to use platform where you can simplify your daily tasks. It contains intuitive UI, making your store set-up a hassle-free process. There are several user-friendly functions offered by BigCommerce such as the ability to view company inventory, study bestsellers, automated returns, payment gateway integration, store statistics, etc. This shows that BigCommerce understands that not every new e-retailer is tech savvy and so the company has made it an effortless platform to be used by anyone.
2. Variety of Design Templates and Mobile Templates
BigCommerce offers several free and premium (paid) store-front themes to design your website. Also, with the increase in the number of people shifting to mobile devices, it is important to have a responsive website and attractive mobile templates. BigCommerce offers you templates that are professional yet out-of-the-box. However, if you're in a mood to work with codes, BigCommerce let you customize the themes using HTML and CSS editor.
3. Sell on Facebook
Everyone knows Facebook is the largest community comprising of potential customers. BigCommerce enables Facebook users and fans to browse through your products before they visit your website. Market a few specific products and see the traffic being directed to that product page on the main website. Everyone knows that today perfect promotion is one of the essential elements for a good and successful e-commerce website and what better place to do so if not on Facebook.
4. Sell on eBay & Amazon
We all know that Amazon & eBay are the giants of online retail shopping. If you are able to enlist your products on such e-commerce platforms, your client base and real-time sale will increase in no time. If you've integrated with these platforms and selling on them, it'll ensure that the loyal customer base of Amazon is also directed towards your website. Now you don't want to overlook such a chance!
5. Product Syndication
With BigCommerce's feature of product syndication and shopping feed, you can bring more traffic to your website. BigCommerce lets you connect with e-commerce platforms easily as well as derive benefits from some popular shopping feed such as Shopzilla and Google Product Search, Price Grabber and Next tag.
6. Customer Loyalty
With BigCommerce you can achieve greater customer loyalty with its ability to create gift cards and coupon codes for your customers. It grants you the flexibility to distribute these cards and coupons as per your discretion. It gives you the freedom to create the perfect marketing strategy that best benefits your business.
7. Shipping Providers Supported by BigCommerce
Another out-of-the-box advantage of BigCommerce is that it supports all the major shipping providers. And we all know that when we're talking about online shopping, shipping is a feature we cannot do without. Having all the major shipping providers with you, you can rest assured that you're providing your customers with a reliable and convenient shopping experience.
8. Payment Gateways
How frustrating it gets when you are trying to buy something online from a website that does not support your payment gateway? BigCommerce knows that. Hence, it supports all the major payment gateways that are there in the market. You can easily integrate payment gateways such as Paypal and Google Checkout with this shopping cart software, ensuring that your customers have a convenient shopping experience.
If you're new to the online retail shopping and looking out for a platform to build your website, DesignOmate would recommend you begin with BigCommerce. It is so because it will be your all-in-one solution that will be super affordable for you. If you're stuck somewhere or hesitant about how-to's, DesignOmate is here to help you design a beautiful BigCommerce store that suits your needs.