Dear E-commerce Store Owner: Audience falls for the creative hook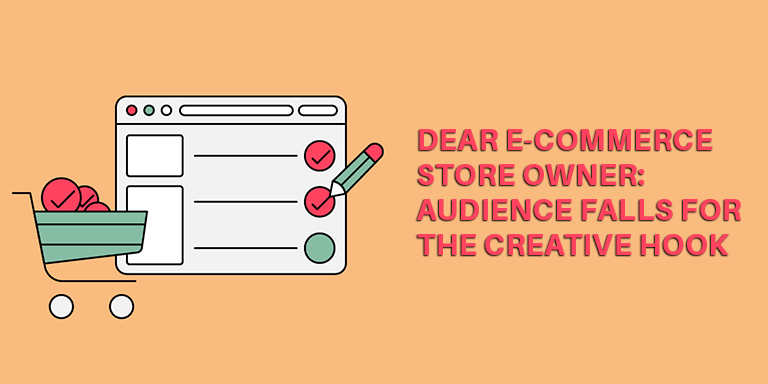 Brand name? Check. Domain Name? Check. Inventory? Check. Registrations? Check. Suppliers? Check. Shipping essentials? Check. Shopping cart? Check. Website or your online store? Check. But where is the CREATIVE HOOK? Do you even have one? If not then it's time you start thinking about how to give your e-commerce store creativity and usability right away. After all, creative outlook and catchy websites are what will attract potential customers and hook them to your store until they convert. Don't know what you need to get that creative hook? Well, we have got you covered. We have listed the five most effective ways that will make your web-store attractive without much hassle.
The design of your store
You need to take special care about the way your store looks like. The design part is crucial and the very first thing any visitor notices. If your web-pages aren't attractive looking, there will be more dropout rates. If your visitors stay more than 3 seconds on your website, it is likely that they like what they saw. The appearance of a website plays a significant role in deciding whether the visitor will convert into a customer or not. Apart from this, it also helps improve the attractiveness of your store, making it more appealing. Also, it makes sure your website design is in sync with your product line; keep your product categories and sub-categories organized and easy to navigate. You can use higher resolution images or professional images to display your products; maintain the font and color consistency throughout. Remember, the first impression speaks volumes.
Ever visited an online store and navigated out of it because it just won't load? Yes, we all have been there. In today's time, speed is everything. Not only does your website need to have a faster loading speed on the desktop but also on mobile devices. The websites that are mobile friendly are the ones more preferred by the customers these days as most of them visit these sites from their mobile devices.
Search Engine Optimized
It is vital that you make sure your e-commerce store has SEO, because without the proper keyword optimization, your website won't rank in organic search. SEO is the essential aspect to take care of if you want  visitors on your website. It is a common notion that if anyone is confused about the place where they should go to buy what they need, they search Google and if your website link isn't visible within top 3 results, it is likely that customer will go to your competitor. To rank higher on Google, you must have search engine optimization strategy in place and an experience Search Engine Optimization Consultant can help you in a big way.
Content should be attractive and easy to read.
Content or instead we say creative content is the hook that gets caught in people's head. If you want your business to stand out, it is critical that you make your hook so attractive that it lingers into your audience's heads. Whether the content is in your blog posts or your e-store's banner, it should make your audience turn their heads and want to click it. Along with creativity, the content must be an easy read to enhance its attractiveness. No jargon language will be able to hook your customers as much as straightforward, realistic and easy-to-read the content will. If you had your content right, rest assured that you're moving towards the right path.
Integrate Social Media
We all know that Social Media plays a humongous role if you want to market your online store. Not just marketing, it has now also become selling grounds for companies. It is a tool that will be your boon in a much more significant way. First thing first, while advertising your website, make sure to add links to your landing page so that your followers are first directed to your site. Engage customers by posting engaging content of videos, photos, motivational quotes, shoot video clips about your products, style ideas, etc. along with content directing them to your web-store for other products. You can also include a clear call to action on your social media channel itself to make conversions. Social media is a powerful weapon which if used correctly, will prove to be your greatest ally.
Clear Call to Actions & Improved Pop-ups
Researches show that a simple and de-cluttered website is more likely to attract customers, so they hit the call to action button and move towards the process of checkout. For every page, it is important to analyze what you want your visitors to do there. If there are several call-to-action buttons, you are most likely sending mixed signals to your audience and confusing them. Similarly, too many pop-ups will give a negative impression to your customers. Your aim is to convert this negative impression into a positive one by improving the pop-ups that appear on your webpage for each web session. Make sure that all the pop-ups are easy to close, and no 2-3 pop-ups appear simultaneously at one point of time. That will be just too much for your audience and will drive them away from your website.
Now that you're aware of how to hook your fish from the ocean of competitors, are you ready to get going or still stay confused? Come to us. We are your one stop shop for all your e-commerce web design and marketing solutions. We can create the Creative Hook and have done that in the past.