Planning to start your e-commerce business in Australia? Here's a blueprint to start that right.
Are you planning to start an online store in Australia? Well, you couldn't have picked a better time to do so. The country's growing economy in the e-commerce sector gives you the perfect opportunity to make some serious profits. We know that starting an e-commerce business needs a lot of hard effort and a deep understanding of the steps required to make it come to life. That is why we have brought you a simplified but a comprehensive blueprint to help you get started in no time.
Decide what you want to sell and target

Know the cost of building store

Register domain name & business

Learn about SEO

Build your store on right ecommerce platform

Create a 360 Degree Marketing Strategy to expand your reach

Create a great shipping plan
Decide what you want to sell and whom
The very first step of starting your own business (online or otherwise) is to decide what product range you want to sell and to whom, i.e., a target audience. For this, you need to determine your business model, whether it'll be a B2B(Business to Business) model or a B2C (Business to Customer) e-commerce store. Once your business model and target audience are decided, it's time to figure out how to obtain the products. Whether you want to be a manufacturer, wholesaler or want to opt for drop-shipping method, it'll be the foundation of your business.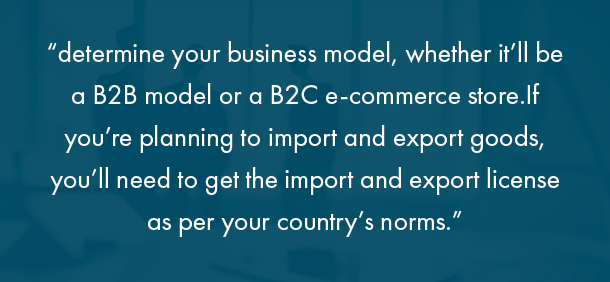 If you're planning to import and export goods, you'll need to get the import and export license as per your country's norms. Though the US Custom and Board Protection (CBP) doesn't need a license to import or export goods from United States, you need to take into consideration the rules and regulations of your respective country for a smooth working. If you're planning to drop ship your products from China, you need to take into consideration product safety standards (i.e. AS/NSZ standards) and substance restrictions (i.e. AZO dyes). Also you need to make sure that your supplier has US and EU compliance documents to get the custom duty clearance.
Know the cost of building the store
Apart from the cost incurred in purchasing of products to be sold, there are a lot of other expenses that you need to take into account beforehand. Such as business registration cost, bank fees, gateway service fees, domain name & hosting prices, postage cost, GST/Tax, PayPal cost, server security cost and most importantly the cost of your time.If cost calculation looking tough, you can get in touch with DesignOmate's Ecommerce expert and they will help to figure out the price to start the ecommerce business.
Register your domain name & business
Once you have decided a strong business plan and taken into account the substantial expenses, it's time that you get your business registered by taking Australian Business Number (ABN) or an Australian Company Number (ACN). An ABN is 11 digit number issued by Australian Tax Office (ATO) to all businesses and associations while an ACN is a unique 9 digit number issued by Australian Securities and Investment Commission (ASIC), issued to those who are willing to trade under a registered company. You do need to have an ABN to register a business name and you do need to have an ACN to register an ABN sochoosing the right mode of registration will depend on the nature of your e-commerce store. It is advisable that your domain name and business name match and correspond to the products that you wish to sell. By doing so, it is likely that your customers will remember you better.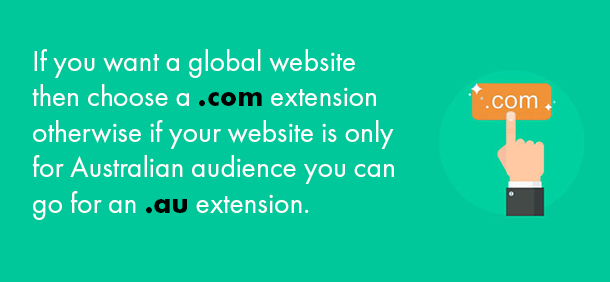 Learn about SEO
You're on the right track to getting started with your e-commerce store, but even before you start building your Ecommerce by hiring best ecommerce web design company or try do it yourself, you need to understand the basics of search engine optimization (SEO). Most of the business owner do it wrong by jumping on designing their Ecommerce store without a SEO plan. If you're unaware about SEO, then there are many tutorials which can help you understand the basics of SEO and moz.com is one them.
Build your store on the right E-commerce platform
Now that you are through with deciding what to sell, whom to trade, business and domain registration, it is time to select the right e-commerce platform for your business. This is the most crucial step as it is the foundation of your online store. DesignOmate offers the most user-friendly e-commerce platforms such as Shopify, Magento, WooCommerce, etc., to help curate the online store that your business demands.
Create a 360 degree marketing strategy to expand your reach
The final yet forever essential step to reach the targeted audience is marketing. Once your online store is up and running, you need to opt for a 360-degree marketing strategy to bring customers to your website. Your marketing strategy will depend on your niche.
Create a great shipping plan
Having a shipping or logistic plan is the last step when starting an online store and indeed an important step. If the shipping doesn't go right, you won't be able to land a single sale for your e-commerce store. There are a number of options of logistic companies available to choose from such as FedEx and UPS that deliver your products over the globe. Make sure to check out registration process, pricing, speed of delivery and quality of packing before you start your online store.
Having a blueprint is just a beginning to the challenges that lay ahead. We, at DesignOmate, are here to become your troubleshooters every time you come across a hurdle. Need the perfect marketing strategy? We are here. Need help with the Search Engine Optimization? We are here. Need a mobile app for your store? Guess what! We are here! Need an e-commerce website designer? We are here. A good book keeping app to fill the taxes at the year-end is also very essential as you take off with your online store. Don't worry we aid you there too. No matter what your problem is, we have a solution for it.