14 Facebook Hidden Niche Audience Ideas to Sell Your Products
Facebook is the leading social media platform that accounts for a vast potential market for an enterprise's online advertisements. According to the Facebook report, there are around 2.13 billion active users of Facebook around the world. That's why Facebook is an essential channel for an enterprise to advertise on. But many enterprises are facing challenges in standing out of the crowd in terms of generating revenue for their unique services and products they offer from their competitors. One of the probable reasons is targeting general audience instead of a niche audience. Marketers also face difficulty when they set target audience based on Demographics, Behaviors and Interests, as there are a lot of options available on Facebook while selecting target audience.
To approach this problem, we have come with a list of ideas on how you as an enterprise can target the hidden niche audience to increase the sale. Targeting niche audience, website owners can decrease their Facebook marketing cost and improve ROI and conversion rate.
1. Target Birthday Audience on Facebook
To increase the sale of your products you can use the strategy named birthday months. The target audience will be peoples whose birthdays are in the specific.
For Example, you might have seen the advertisements of the t-shirts written with 'special people are born in February' these shirts are appealing to the ones who have a birthday in the month of February for buying them.
Such ads can be advertised by Recreational stores, Cake houses, gifts and accessory stores.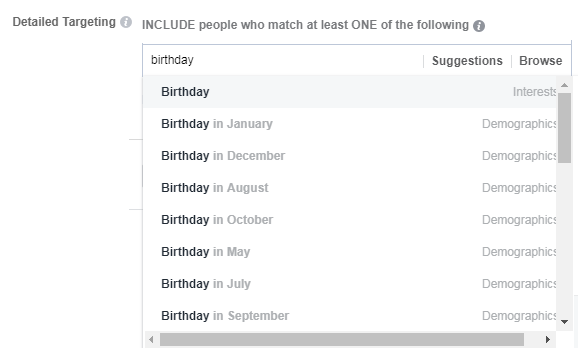 2. Target Facebook Admin
You can target only Facebook admins for increasing your sales.
For instance: there are a lot of people who want to run Facebook campaigns for their fan pages and their self-employed businesses to reach out to the right set of people. Facebook targets such people to run their marketing campaigns. Another example is marketing managers who run Facebook campaigns for their company may be the target audience for a graphic design company as they may require some graphics or info-graphics for the same. They also may set an audience who can be targeted by SEO (Search Engine Optimisation) tool providing firm for a social media campaign.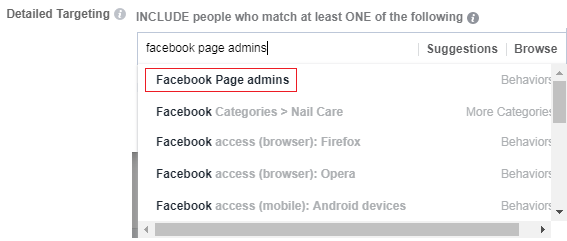 3. Target According to Relationship Status
You can target the audience on the basis of the relationship status of the users. Have you ever thought this can also work? Yes! It can. You can boost your products sell based on this criterion.
For instance: For an event ad, suppose couple entry cost is 500 bucks whereas bachelor entry is 800 bucks. So, this ad will more loudly appeal to the couples to participate in the event as they are getting a huge discount.
Let's see another case on how this ad strategy can work. Tourism companies can target audience based on their relationship status. If they are offering trips for couples, then for them target audience must be having relationship status as in a relationship, married and engaged but not others. You might wonder that marketing ad can be run targeting audience based on their interest. We came across a case study, in which the marketing ad was targeting the men who were interested in men only. The ad was on promotion of mask of face-pack. Because of this ad the product sold in a large amount.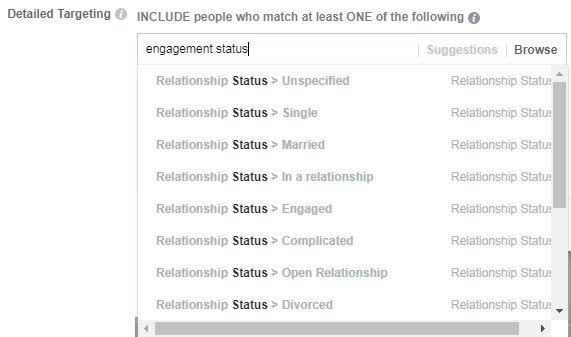 4. Target Facebook Purchase Behaviour Audience
An ad can also target people based on their purchasing behaviour. It may include the set of customers who buy on monthly basis such as buying grocery for a whole month, or who buy apparels once in a six month or year or the people who buy a specific item from Facebook only.
For instance: a person who buys only fresh fruits and vegetables as soon as they arrive in the store. An online grocery store can advertise their products depending on such behaviour of people. A person who buys furniture from Facebook only, for furniture houses he may set out to be their qualified customer.
5. Target Parents
You can also target audience based on their parenting years or according to the age of their child. For example, a kinder garden ad will only be useful for those parents who have their child age between 2 and 4 years. Similarly, a clothing firm selling baby clothes and accessories can directly target parents with the toddlers. On the other hand, if we talk about targeting moms of different categories. Then, Mothers who want to stay fit will be a right target audience for the fitness clubs which may be available online or offline.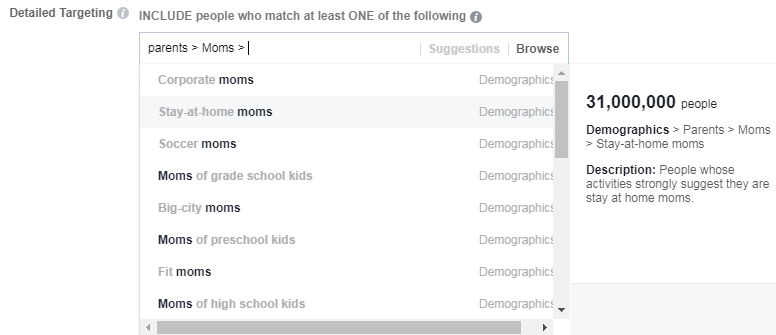 6. Target Close Friends
Nobody can be left out of this strategy as everyone in this world has close friends having birthdays and anniversary on some day of the year. Everyone of them buys gifts for his or her close friends for their special life's events such as anniversary or birthday.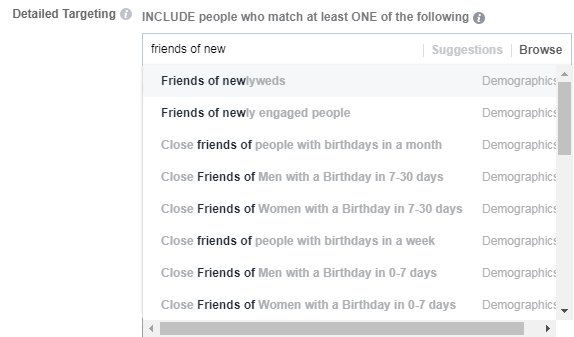 7. Target Mobile Devices
For an enterprise, a right set of an audience can be identified by the mobile devices that people use. They may be divided in the following manner:
People having different companies' devices such as Samsung or Lenovo
People having different types of devices like Android, window phones, tablets, iPad and so on.
E.g.– An apple servicing store must target only Apple device users, not others.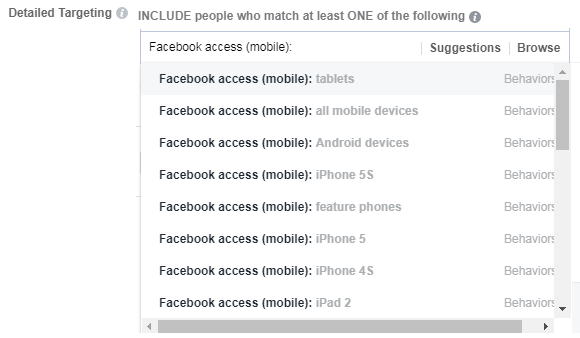 8. Target According to Income
Your right set of the target audience can be categorized on the basis of income. There are different income group people available on Facebook.
For example: For luxurious hotels, target audience must be higher income group people. In the same way, luxurious home decor, are only bought by the people who fall in higher income group category hence, for such decor firms the target audience are those people only.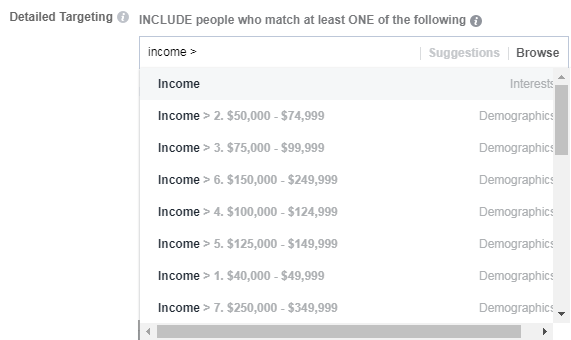 9. Target According to Company Size
A target audience set may be companies based on their size.
Suppose, you run a company which provides co-working space so, your target audience must be start-ups having the strength of 10-15 people or so. If you are a firm that sells machines like computers, laptops, printers in bulk then you must promote your product by making a right strategy that will be a win-win situation for both buyer and seller. You can target large size companies for larger sales.
10. Target According to Browser
People use different browsers according to their convenience and liking. There are certain add-ons which are available for specific browsers only. A software service provider will target the audience who use specific web browser that supports his software (s) only.
The target audience may be set based on their preference of operating system (OS) this is one of the behaviour based on which one can target the right audience for his business. People who use windows that will be the right target audience for the other windows products such as Microsoft Office, Microsoft video player but no other OS.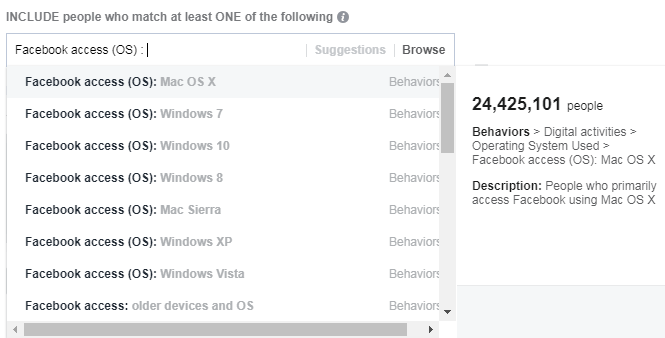 You can also target network type
11. Target Android Users
For selling video games or videos or other featured films which can only run on an android 360 devices. In this case, the target audience will be only Android users.

12. Target Employees According to Their Work
For a firm, a target audience can be based on the profession of the people. Marketing managers on Facebook set out to be the target audience for SEO tool and service providing companies, and digital marketing companies. Similarly, companies providing tools for CRM (Customer relationship management) such as CMS (Customer management system), and sales force management tool, their target audience will CRM manager and sales manager respectively.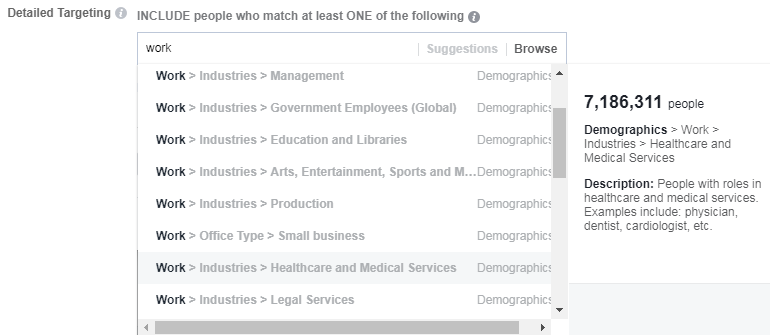 13. Target audience on the basis of their household status
There are products available that are used by only grandparents such as helping sticks, wheelchairs, hearing aids, some specially designed mobile phones with buttons and there is a long list. Firms marketing these products can directly set their target audience as the household's composition with grandparents.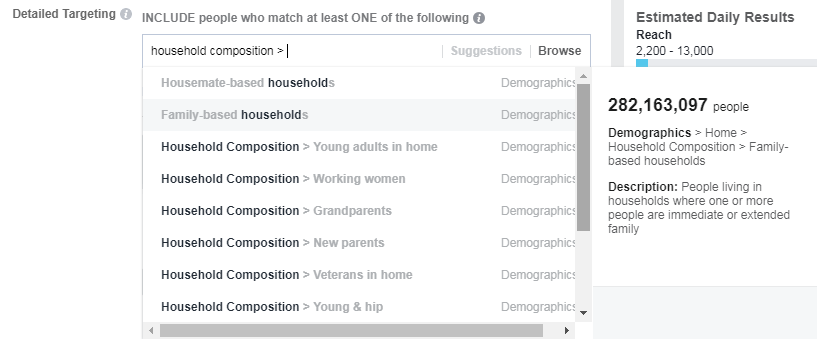 14. Target Automobile Audience
One can target the owners of different automobiles based on the following facts like:
• Type of cars such as sedan or SUV
• Company of car such as Honda, Scoda
• Pricing of the car
• Age of the automobile and so on
For instance: For an enterprise dealing in Honda (say) accessories, the right set of the target audience will be those who own Honda cars only. Targeting any other car owner will not be of any use.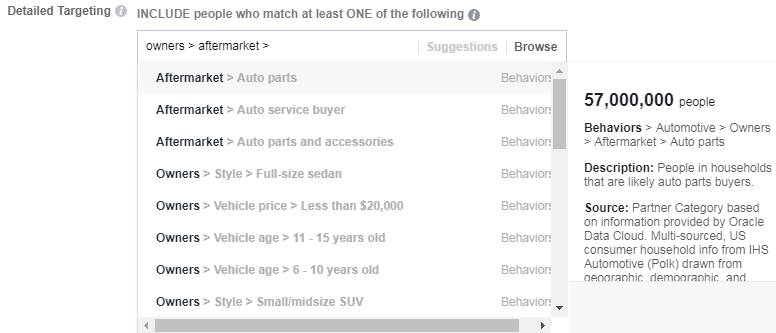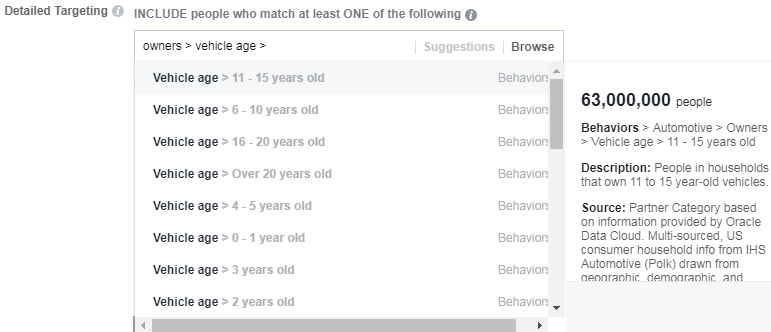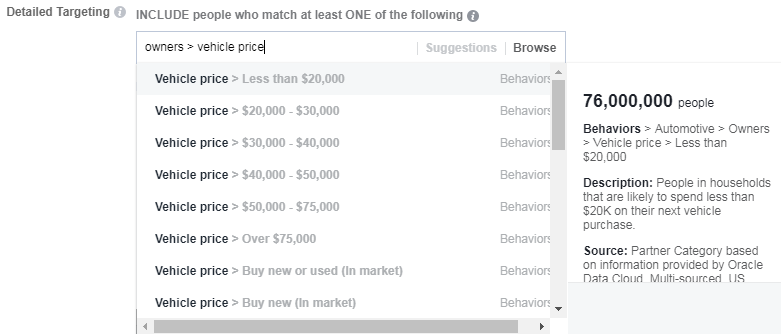 Bonus
While choosing the niche audience you can choose from a number of advanced features available on Facebook. With the help of these you can find the interest of people and target them, below is the example showing people who are interested in Jewelry.
The options are: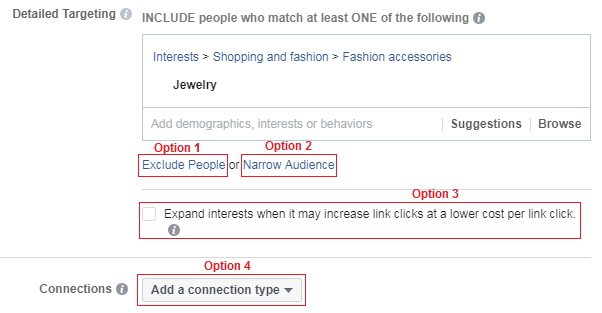 1. Exclude people: You can always exclude the people to whom you don't want to show your ads.
2. Narrow Audience: You can also use the narrow audience that will allow the people who you want to show your advertisement.
3. Connection Type: You may select audience by connection type will help you identify the audience who liked your page, who used your app, who respond to your event and so on.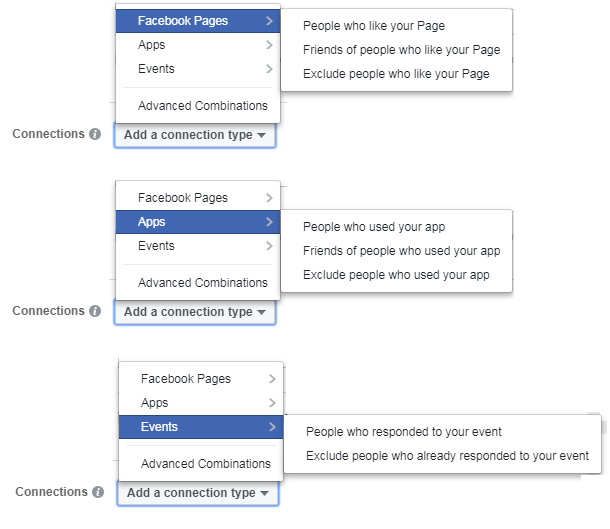 These are only some examples we have discussed here, you can make combinations of those as well to select your niche target audience. Setting specific audience helps you in cost-cutting as Facebook charges you according to the size of your target audience. As size increases cost increases so, to reduce the cost narrow down the size of the audience and select them wisely according to your marketing campaign and product. This is really effective and will lead to the conversion of clients with the higher ROI.
Like this post?
Download PDF version of this blog post and share with your Social Media Marketing team.