How to Double Your E-commerce Sale on Valentine's Week
Valentine is the symbol of love, romance and, care. Almost every person in a relationship likes to celebrate the whole week with his or her partner. Earlier people use to celebrate only Valentine's Day but now people are madly celebrating the whole Valentine week. You might know that there is a list of each day in a week that is being celebrated as different special days. The list includes Rose day, Chocolate day, Teddy day and so on. People gift their partner as suggested by the name of specific days like chocolate and a teddy on a chocolate day and teddy day respectively.
A study says that in Australia, on an average five-year-old married couple spends around $253 million on Valentine's Day. This statistics is only about five year old couple and Valentine day, but there are other people too who celebrates Valentine's week to enjoy love. So, there is a lot of money spent by people as a whole.
There is a huge scope for selling your goods on Valentine's week. People gift their partners almost on each day of Valentine. But, you need to heed on showcasing right marketing strategies on your e-commerce site to sell your products to the maximum.
1. Attractive Valentine Themes
Apply Valentine theme on your website so that people in love will visit your website than other websites for a longer time when they find it more happening.Website logo, banner, pop-ups and button will be in Valentine theme.Longer time visits or frequent visits imply people are more likely to buy gifts from your website only. So, the basic motto here is to make a visitor stay a little longer on your website.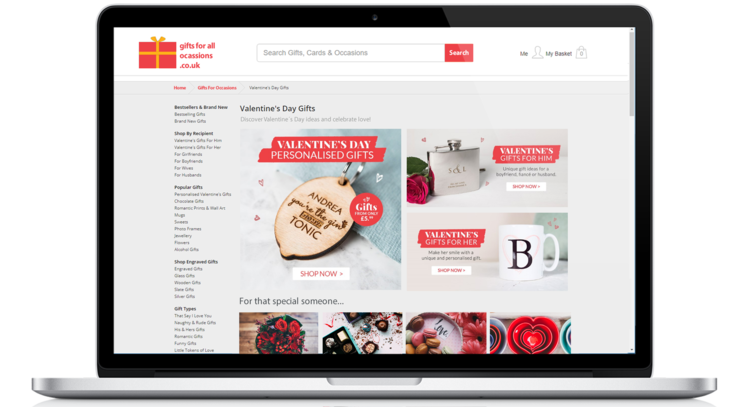 2. Appealing discount banner
Discount is everyone's desire. Buying on discounted price gives a-kind-of satisfaction to the people. They become glad of thinking that they have saved their money even after purchasing a valuable gift for their partner.  Make discount on the products more appealing to the people so that they buy from your online store only.  You may use Valentine colours such as red, white or combination of two and info-graphics representing lovebirds, making it catchier to the eye of the website visitors. This Valentine banner will remain static to your homepage.
3. Eye-soothing Discount Popups
One might get confused that why we are discussing discount thing again. We would like to make it clear that the discount banner mentioned above will be shown on the homepage/landing page.  These pop-ups may be shown at any time, at any place either in the starting when a person just visits your website or at the time of exiting the website. Make sure they are eye soothing; don't use so much bright colours. These pop-ups may make them think again to buy gifts if they have not bought, at the time of exiting the website or so.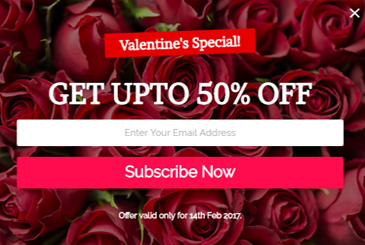 4. Interesting Facebook Contests
To sell your products to the max, you can run a Facebook contest to engage the current or prospective customers. You may also reward expensive gifts for winners to encourage more people to participate. The Sky is the limit for these kinds of strategies; you can run these types of contests according to your products. If people like your contest, they will also tell their friends to participate, hence it will be reaching out to the masses through word of mouth too. You can target niche audience that are in a relationship or are couples.
5. Creative E-mailer Campaigns for Existing Customers
You must send a personalized email to your entire list of existing clients on this valentine week stating discount offers so that they become sure that you take care of your customers and you have something exciting for them. They will definitely buy from you only. Remember to have subject, headings discounts call to action button must be highlighted, and impressive so that user will take action ASAP and do not avoid reading your e-mail. It will increase the rate of opening of e-mails.
6. Beautiful Gifts Wrapping
A gift becomes more exciting when it is wrapped beautifully. You can provide gift wrapping for your customers, above shown pictures gift wraps will not take much time to make gifts more beautiful as only colourful or designed ribbons are used. Mention creatively on your website that you are the only one in the market who is providing exciting packages this valentine week.
7. Personalize Products
People like personalized gifts, either written with their names or special messages by their loved ones. You can provide gifts written with special messages given by the purchaser. Don't forget to put this special feature on this valentine week on your website.
If products are such that you find difficulty in writing over them then you can send a small rectangular card with the gift. That card may contain some wishes from purchaser or messages from your side so that they will remember your store name for a long time. For instance, you can sendcardalong with the flower bouquet.
For this, you will have to make an extra effort but to make your selling increase it is worthy. Right!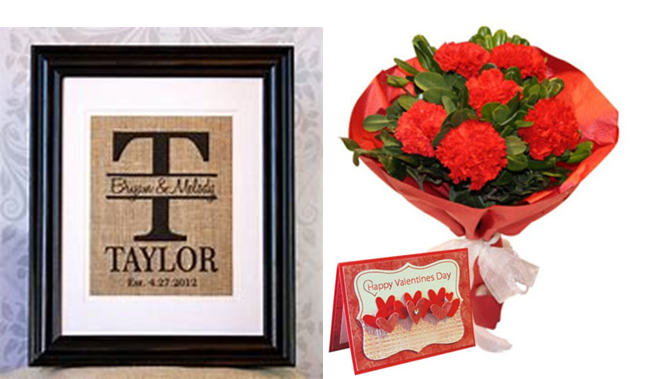 8. Free Shipping
Providing free delivery of gift items at the doorstep of your clients will boost your sells surely. Mention on your website stating free shipping. For example, you can get free shipping on orders above $50. This will encourage customers to buy products more or worth $50.  You can decide cost according to your budget.

9. Exciting Gift Card Scheme
Run a gift card scheme to nearly double your Valentine week sales. This scheme will contain gift cards that one can gift to one's partner.Gift card is a-kind-of e-wallet that is purchased only one time and contain a fixed amount.
From these gift cards a person can buy gifts of their own choice. This will help the people who are confused to select the gift items for their partners. For example, a gift card worth $40 is purchased, the person to whom it is gifted can buy anything worth $40 from your online store.
10. Social Media Referral Program:
We advice you to run a social media referral scheme on your site. For this, You can ask your users to share your products  on social media platforms such as Facebook, Twitter, Instagram, LinkedIn and so on in Valentine week only. And in return, they will get some kind of discount on purchase. It completely depends on you how much discount you can provide.
These are the proven marketing strategies to make your e-commerce store sales double. Follow these points to make Valentine's week way more profitable for your store. You can also find some new and exciting strategies that will boost your sales. Good Luck.