How to Handle Bad Reviews or Fake Reviews on Amazon
Amazon has been winning trustworthy buyers and reliable sellers from around the globe for more than two decades. With its efficient and steadfast shopping strategies, it provides us with the best shopping experiences in the domain. We have already discussed about setting up an Amazon store. While putting in the best of efforts to deliver the finest services, we must not forget how important customer satisfaction is for the higher sales of the product. The buyers play a significant role in promoting the products by the reviews they provide and with shear discussion within their circles. Amazon values its customers the most and thus, is very particular about the reviews each product receives.
But with the vicious competition, there are sellers who use malicious ways to pull down the genuine high ranking sellers by using pretentious ways. They pay to post bad reviews or fake reviews on their rivals' products, or they promote their products by getting fake good reviews on their products through various sites or buyers.
A buyer relies A LOT on the reviews and to make sure your product is not losing the race because of malicious activities of your rivals, keep a check on the reviews on your products, and in case you find something suspicious act on it immediately.
Before we move towards the mitigation steps let us briefly check how to identify the issue.
SPOTTING BAD OR FAKE REVIEWS
There are no set criteria to differentiate a fake or an original review but still, these are a few tactics that may help you to filter and differentiate.
Look for Potential Indicator
Check if the review is marked "Verified Amazon Purchase" or not. It is definitely not a reliable rule because at times users may forget to check the Verified Amazon Purchase option. But most of the users these days help Amazon with the reliability and support to maintain its authenticity.
Timing of Unverified Reviews
If you notice a lot of encouraging reviews on new products by your rival, there are probabilities they are fake. If there are a lot of appreciating reviews in short span of the launch, then they need to be checked.
Use Quantitative Analysis
Along with going through the reviews also check the average star ratings. The ratings and the reviews must complement each other. In case any of these are find defying then there are chances that something suspicious has occurred with the product.
Consider the Length and the Tone of the Review
If you see the review with loads of explanatory technical terms then there are chances that the reviews are being faked. Buyers generally do not get in the technical details of the product while reviewing the product.
Other Reviews
Also, check other reviews from the buyer. If the buyer is new and skeptical with his reviews there are chances that he is paid to mark a review of the product.
MITIGATION STEPS
Bad Reviews
There are several ways to deal with bad and negative reviews on Amazon.
ATTENTION! Here we are talking about genuine bad or negative reviews that are being posted on your product.
Monitor The Reviews
To make sure that your customers are happy with what you deliver to them, monitor the reviews regularly. It helps you check the plus points and also the negatives regarding the products you deliver. Constantly work in the direction of dealing with the faults and complaints that have been brought to notice.
Tip: Tools like AMZTracker and FeedbackFive helps you monitor the reviews on your products at an affordable price.
Contact
Do not ignore any bad or negative review on your post. Contact the buyer as quickly as possible. Get the issue resolved or offer a refund to the customer, so that the customer deletes the review and in the end is a Happy Customer. To contact an individual buyer for negative feedback, check your feedback manager page.
When you contact the customer there are possibilities that customer reacts to the situation in various ways.
They can either update the previous review with a positive response, which would not only increase the reviews on your product but also, help you build a healthy customer relationship.
There could be a chance the customer removes the comment completely thus, bringing down the reviews on your product but increasing the overall score.
Respond
In case the customer is not available for contact, respond on the review humbly about dealing with the complaint. Also, make sure you do accept the fault and apologize instead of defending yourself. Respond with how you dealt with the situation. Reaffirm your customer service and provide a link or email address so that the customer can directly contact you.

Tip: Invest some resources that may be required to make the customer happy. It may prove expensive at times but it is the nature of business these days.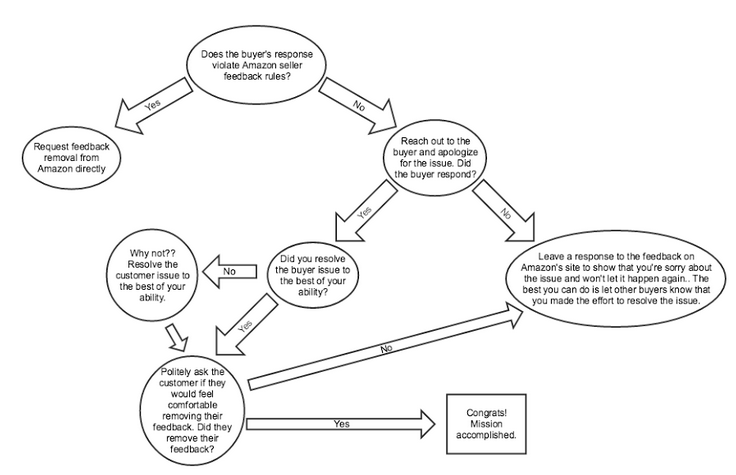 Ask Amazon to Eliminate Reviews
You can request Amazon to eliminate the bad reviews but it is not something you should rely on. Amazon would react only to reviews that it finds violating the Company Guidelines. If you think the review of your product is offensive and improper for the public post just click the "Report Abuse" and give an explanation validating your request for the removal of the comment.
Good Over Bad
This is a genuine trick to make your product look good to the customers in spite of a few bad reviews. Do react to bad reviews but also try to smother them with some good reviews. This helps to improve the average rating of your product thus, preventing the effects of negative reviews on your products.
Fake Reviews
There are no hard and fast rules to deal with fake reviews that have been posted on Amazon. But Amazon is constantly trying to deal with the problem of fake reviews that are posted on products with malicious and harmful intentions. There are websites that offer fake reviews for customers at a reasonable price thus boosting the rankings without genuine sales. For now, these fake reviews can be dealt in several ways:
Tools can help
There are a few tools that help you identify the fake reviews on Amazon. Most reliable of those tools are Fakespot and ReviewMeta. Just add the link of your Amazon product in the link provided and let the artificial intelligence work on it. Obviously not a completely reliable method but yes, trustworthy to a great extent.
Amazon takes actions
Amazon has sued over 1000 of entities involved with the creation of fake reviews over past few years. Some of the noted allegations are:
In April 2015, Amazon for the first time sued some entities against fake reviews. In October in the same year, it sued several other practisers who were registered with a website that did odd jobs for a few dollars.

In September 2017, Amazon has filed five separate cases through American Arbitration Association, against entities that were using illegal methods to make money through Amazons Kindle self-publishing service.

Depending on the offense Amazon may not file a lawsuit against the guilty but may cut their incentives or may bar them by ceasing their sellers' account.
Around 84% of the online shoppers consider online reviews as personal testimonies.
A review makes a great impact on the customer and is relied on a lot. Sellers need to be attentive and monitor their reviews on regular basis to keep up with the competition. Also, a healthy competition is what Amazon expects and those violating the norms pay for the misconduct. To promote your products make sure you have optimized your product listing. You can also opt for Paid Campaigns on Amazon for promoting your products and gaining a reliable customer base.
For any queries or assistance feel free to contact us.
Check out our detailed guide to get started with Amazon and marketing techniques to succeed.