Top 10 reasons to go with Shopify for your next e-commerce store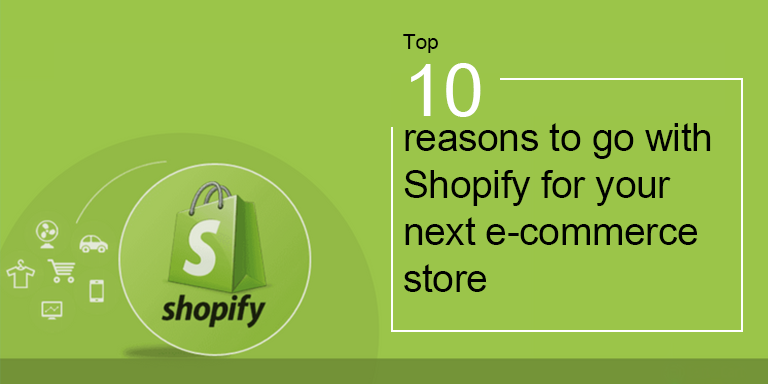 As you know Shopify is an all-inclusive online selling platform a low startup cost and easy to use interface. Shopify is one such platform that will aid you in establishing your own brand. It is a flexible e-commerce platform that integrates with other services, from shipping to customer contact management you can customize and  manage your online store effortlessly. It is preferred by the startups. Shopify has grown tremendously and has become the go-to option for all the retailers that have no experience with coding or web designing listed below are some real time benefits of using Shopify to develop an easy to use webstore.
Smooth and quick setup
Not from a tech background?  Shopify is quick and easy to setup and use. If you're in the mood to opt for Shopify, then you're in good hands. It is a no-fuss platform that offers is easy to set up and launch.
Afterall not all entrepreneurs are tech savvy. Its admin interface is user-friendly, clean and straightforward because everything is structured and logical. Shopify is the software that offers hosting needed for launching a website. To develop a website on Shopify, you don't need to understand coding at all. All you need are your products and a brand name.
Security and reliability
Worried about customer security? Shopify is a secure and reliable platform. If you are an online store owner, you're bound to deal with sensitive customer information such as their bank, credit or debit card information, house details and so on.
And where sensitive information is concerned, you need to be very much sure that you're website is fast, easy to load, secure and always online. Nobody wants a call saying "Your website has been hacked." Don't worry! Shopify has got you covered. Being hosted software, it ensures a secure and reliable connection. So all you need to do is put your focus into selling your products only.
Mobile Friendly
Need a website that is compatible with mobile screens? Shopify websites are highly mobile friendly. Everyone knows this that in today's era if you want to excel in an e-commerce business, you need to have an excellent responsive mobile site for the increasing number of mobile shoppers.
If you don't have one, you are in a deep pit. Good news for you then because all the Shopify themes arefully mobile friendly. That means you can create a beautiful mobile-optimized online store to sell your products to your mobile shoppers. If you need some customization on any shopify theme, then you can hire expert shopify designer for theme customization or even he can design an ecommerce store from scratch as per your requirements.
Payment gateway integration
Shopify has made payment gateway integration very easy as an online retailer, you need to take into account that you provide your customers with a secure and reliable payment gateway.
Shopify has integrated with various payment gateways that allow your customers ease to a choose payment method as per their convenience. Providing such gateways maybe a task for other self-hosted platforms but not with Shopify. That's not it, Shopify also offer its own payment gateway, powered by Stripe. This gateway doesn't incur any transaction fee. An added bonus is the lower credit card fees, and the merchant account isn't needed.
Shopify themes are professional and attractive
Shopify themes and even custom Shopify stores are always professional and attractive. A visually attractive store is essential to gain customer attention. It is a sure shot way to make your online business success and put you ahead in the market.
What does a visitor look at when they land your website? Images, product pictures and the graphics used to create the website. These are the aspects that make your visitors come back time and time again. Apart from being visually attractive, your website needs to be professional looking. A hotchpotch website isn't something a visitor wants to see. Shopify understands this need and hence, have developed several themes and layouts that will allow you to create visually appealing and professional looking web-store. If you're aware of coding, you can customize it to the way you want.
Affordability
Not big on a budget? Don't worry, Shopify is truly affordable. If you're a startup, you cannot afford to develop websites that cost around $3000-5000. That is a massive investment for a startup.
Shopify understands that. They know that as an entrepreneur your main aim is cost reduction and profit maximization. That is why Shopify comes with super affordable pricing plans. It works on a subscription method, i.e. you need to pay a small amount of fee in order to use the benefits Shopify offers. Compared to all the benefits you get, the cost is worth it.
Curated SEO and marketing apps.
Shopify has curated SEO and marketing apps that can bring customers to your store. If you own an online store that is unavailable on search engines or in other words isn't search engine optimized, it won't get you the potential customers. Search Engine Optimization (SEO) is a critical feature that enables the customers to find your store when they are searching for your products. Shopify powerful SEO feature will help you rank higher in search results. It also gives you access to information such as 'from where the customer is coming' so that you can design your marketing strategy accordingly. Apart from SEO, Shopify has various marketing tools including social media integration, product review, and email marketing. It also allows you to develop discount codes and gift vouchers.
Amazing abandoned cart recovery system
Shopify has one of the most amazing abandoned cart recovery system. Research says that over 50% of the customers who have put products in their carts will leave your web-store with making a purchase.
Due to this reason, Shopify has developed an interesting feature. Its Abandoned Cart Recovery feature tracks and emails those potential customers, reminding them that their purchase process is yet to complete. This feature enables the e-retailers to increase their conversion rate.
Sell on Amazon, Ebay and other platforms with ease
If you're interested in expanding your business to Amazon, Ebay and other such platforms, you can do so easily with Shopify.
You can create offers for the products listed on these platforms directly from Shopify in any category.
You can keep track of the inventory and reconcile revenue from the product sale using Shopify reports.
Not just that, you can set unique pricing of each product and reserve the inventory for each platform separately.
Support
Stuck somewhere? Shopify's 24/7 Customer support will help you pull through. Shopify is big on its customer support. No matter at what hour you need them, they'll be there to help you out — Twenty-four hours a day, seven days a week.
Their response time is always on point which means you're not alone in managing your website. No matter what is your issue, Shopify's customer care service will provide you with the right solution.
Still not sure on how to create a web store on Shopify? You can turn towards DesignOmate to assist you in creating your online store just as you imagined. DesignOmate is known to excel in creating and managing websites that are made on the Shopify platform.