7 Reasons To Choose A Local Web Design Agency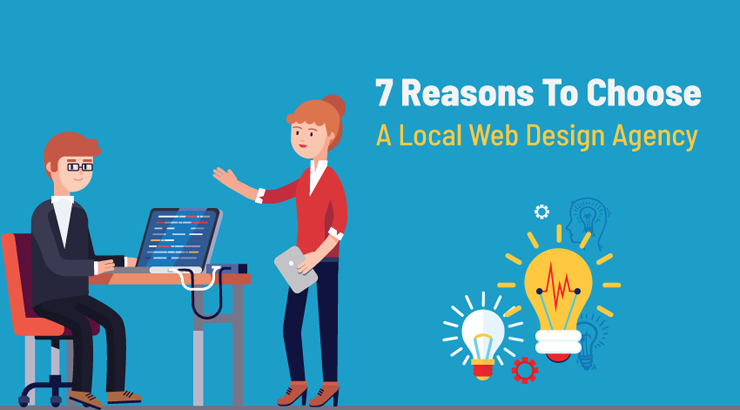 Web designing is no cake-walk, and the agency you choose for your website designing needs can prove to be a fuel to your success, or a trigger for your failure. In our previous blog, we had talked about the various aspects to be considered before jumping into a contract with a designing agency for your needs.
One of the aspects that we had talked about was the location of the designing agency. If you are confident enough to manage collaboration with a remotely located agency, think again!
We are at your disposal with 7 reasons that might change your mind and convince you to hire a local agency for the task.
1. They know the region in and out
A local agency will be well-acquainted with your potential customers and will tailor-make the website keeping that information in mind. The agency would know the language to be used for the content on the website, the marketing skills that woo the consumers most efficiently, and the tactics to sell you to your end users. This first-hand knowledge would be a hard one to acquire when your agency sits at the other end of the world.
2. Face-to-face communication
Meeting in person leads to clear and consistent communication. It leaves no loopholes in the understanding of the requirements and therefore the risks of misunderstandings are minimal.
3. They understand your user base
Hailing from the same region and culture, your development agency would know your customer base completely and will develop your website according to this knowledge. An awareness of your competitors and their position in the market will provide the basis to your agency about your specific needs without you having to brief them about it.
4. They can help you build your network
If you hire a local agency, they will know influencers and other contributors of your industry, and this can open new doors for collaboration and partnering. Meaningful relations can be built with your agency acting as a mutual association between you and your potential partner.
5. You help boost your local economy
All reasons apart, if you love your region or town, choosing a local designing agency will lead to the bolstering of the local economy. This would be your way of giving back to the soil which strengthened your roots and gave you wings!
6. A fraud-proof business association
There are ways you can analyze the authenticity of a local agency better than a remotely located company. While the remote agency is only visible through the window of your devices, and only what exists on the Internet is the sole proof of its existence, a local agency can be checked for its reliability through more trustworthy sources.
7. The level of comfort and understanding
When you and your designing agency are local to each other, you share a higher level of comfort with each other, talk in a language that comes naturally to both and build a relationship that can last long.
So cut down on the hassle of working with an overseas agency, and choose the best local website development and designing agency for all the benefits mentioned above.