4 Important Things For Any Law Firm to Promote Themselves Online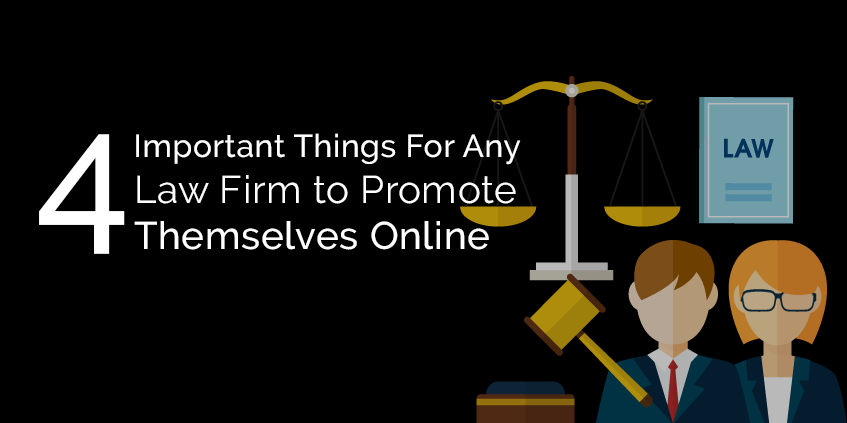 Law firms heavily depend upon their website to tell the world who they are. Since the legal field is such a large industry, your firm requires the help of a professional and experienced legal marketing agency to provide a platform that will differentiate your firm from your competitors.
In this internet world, as a law firm or individual lawyer, you should focus on following things to make sure you are not left behind.
SEO
If anyone requires legal help or requires a lawyer then they will search for a legal firm on search engines like Google, Yahoo, Bing, Ask.com etc. As a result, you must make sure that your site is search engine optimized(SEO) and make sure that your firm's site ranks toward the top of search engine queries using your service and region keywords.
SEO is incredibly important to law firms that want to rank higher in search to acquire a constant flow of targeted potential clients. Without an optimized website, it could take months or even years to naturally rank and even then maybe only for one or two keywords. If you want clients to find your practice instead of a competitor's, you need the right legal search engine optimization team on your side. It is getting harder than ever for a law firm to reach one of the premier search engine positions, and doing so takes more than just a few minor changes to your legal website. Legal SEO Experts can help you to avoid mistakes and make the most of online marketing opportunities.
WELL ORGANIZED WEBSITE
One of the things to remember as you are dealing with legal website design is that your site must be well-organized. Law can be overwhelming to many people. Be sure that when people are viewing your site they can easily click through & find the links they want and able to read bite-sized information. Most people who are looking at your site know nothing about law. With a good law firm website, you want to provide them with a well organized, simple, easy-to-navigate browsing experience.
The best organizational strategies for a legal website include a central page that tells a little bit about your firm, lists all of the services that you offer & this list should be accessible on the homepage.
An organized website should have clear directions on where to click in order to learn more about the services. People visit law firm websites for many reasons, so each of the services that you provide should have a visible button on the home page. In terms of law firm website development, this enables your users to read about a certain subject and then easily click back to the beginning to research something else.
NICE FLOW OF INFORMATION
A good law firm website must be informative. People want to know you are professional, knowledgeable, and experienced. If you have expertise in different areas or types of the law, be sure that you state this. Web design for a lawyer's site should include areas of expertise for each individual & partners as well, allowing clients to see which lawyer at your firm could most help with their needs.
People do not want to choose a law firm that does not specialize in their needs. This is especially true in sensitive criminal or family law situations. Specific, informative pages are a great way to make sure your site visitors can get the information that they need.
GREAT AESTHETIC
Design catches the eye before the valuable information you have on the site. Make sure that the website design, photos, and logo for your law firm are all engaging and pleasing to look at.
People want to see that whether they can trust you or not? and they want to be sure that what you are going to deliver. Convey this through your website as it is the face of your business and if it doesn't look good then they will relate it with your law practice and assume it's not working well that's why you haven't paid attention to your site.